Roll Call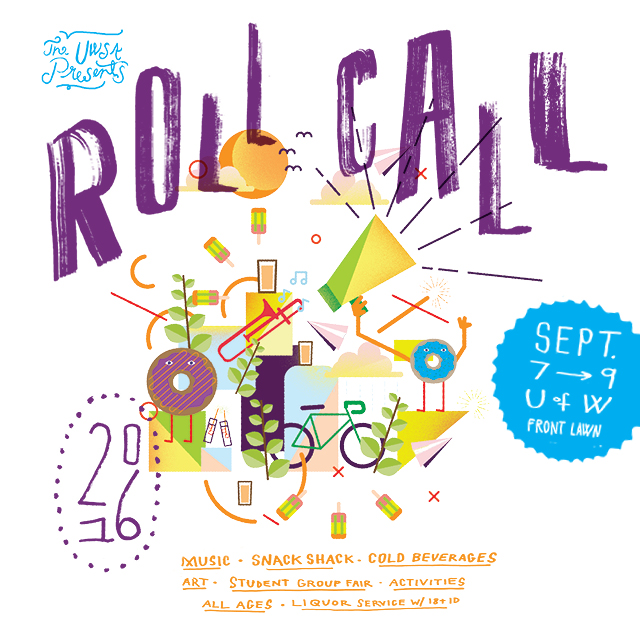 UWSA Presents
~ Roll Call 2016 ~
Join us on the front lawn of the University of Winnipeg to kick-off the new year!
Music | Snack Shack | Cold Beverages | Art | Student Group Fair | Activities | WRENCH Bike Sale | DJ Sets by CKUW + Stylus
All Ages. Liquor Service w/ 18+ ID
_____
Wednesday | 11:30am – 4:00pm
Lanikai – Brady Allard – Mulligrub
Poetry Slam @ The Hive | 7pm
Karaoke @ The Good Will | 10pm – Hosted by Michael Barkman
_____
Thursday | 11:30am – 11:00pm
~~ Le1f ~~
W/ Mozart's Sister & 3PEAT
+ DJ Tiny O & Renée Girard
Mise En Scene – Joko Tea – Ali Fontaine
Afterparty @ The Good Will
DJ Charlie Hustle & Boogey the Beat
_____
Friday | 11:30am – 2:30pm
Roger Roger @ 12pm
UWinnipeg Great Rock Climb
Afterparty @ The Good Will
Dirty Catfish Brass Band W/ Odd Outfit & DJ G-Ma Feelgood
_____
All Roll Call venues are accessible.
Cozy Corner is our safe space tent, support provided by Klinic.
_____
Roll Call is a three day celebration of student life, that celebrates community and is diverse, accessible, and represents the advocacy of the UWSA, with beer gardens, live music, and community vendors, showcasing local talent and artists.
For questions or concerns contact UWSA Events Coordinator, events@theuwsa.ca
Please review our UWSA Events Safer Space Policy